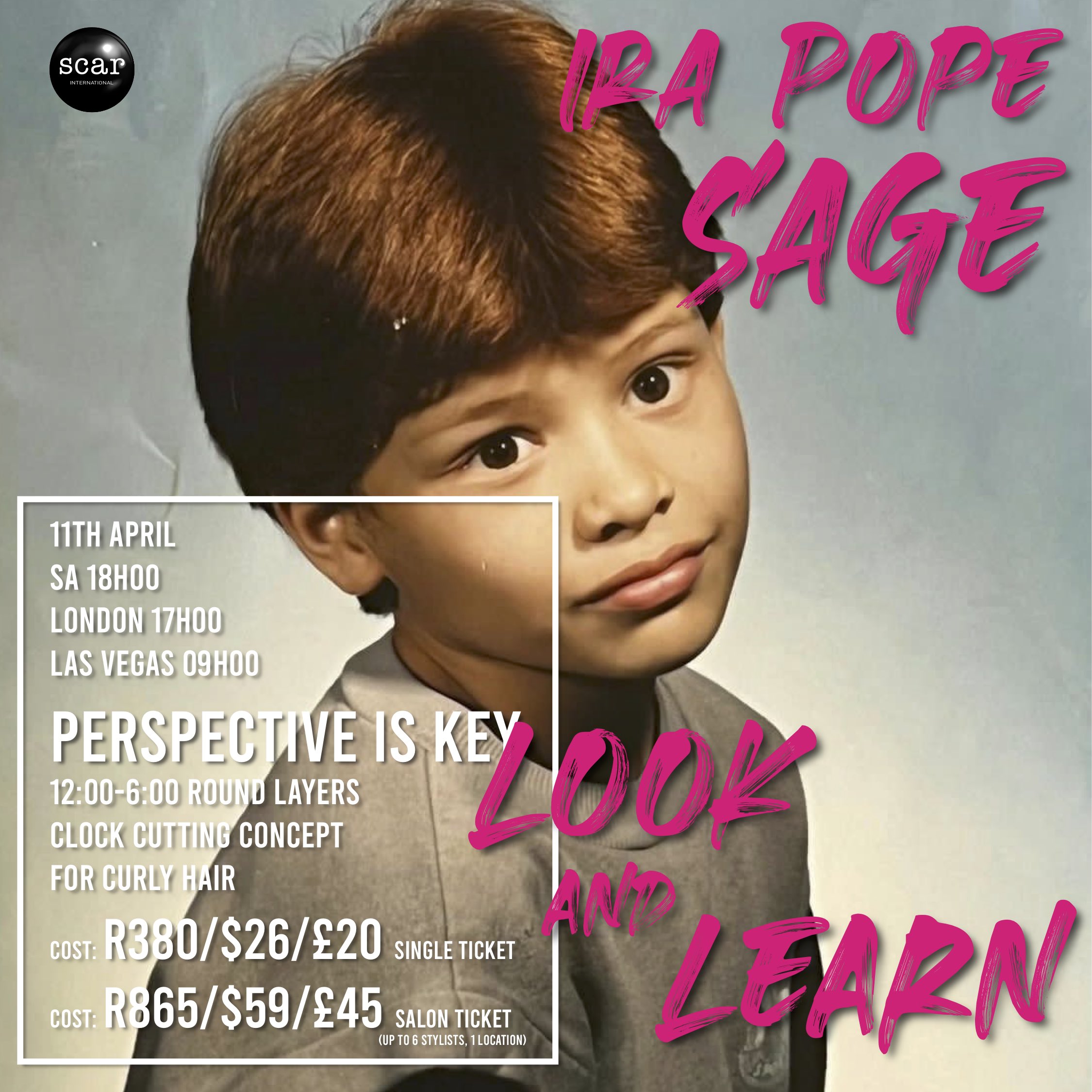 For the hair stylists … Back by popular demand!!
scar International Education is so excited to be hosting Ira Pope Sage again with another Online Look & Learn.
Last year, Ira introduced us to his Clock Cutting Concept, an original, simple and visual method. Inspired by time, he uses the face of an analog clock to teach a new way of cutting hair. This time round in his course, Perspective is Key, he focuses on Round Layers  12:00 – 6:00. 
It has to be said that Ira left a really big impression on the students last year… Never mind simply his personality, which is a breath of fresh and unusual air, his actual Clock Cutting Concept is amazing and a little bit life changing… Even more than that though; Ira has a style of teaching (and being) that really resonated with the scar education crew who did the last Look and Learn. We have had requests for his return ever since – and are SO excited to welcome him back now.
This April, join Ira online via Zoom to change your perspective on how to cut curly hair!
11 April 2022, Monday
18h00 (RSA) | 09h00 (Las Vegas) | 17h00 (London)
Live Zoom Webinar
R865 | $58 | £45  salon ticket (up to 6 stylists, 1 location)
Utilizing the Clock Cutting Concept you will learn a curly round layer shape, the most famous, money making haircut in salon history.
This lesson will show you:
The importance of body position and where to stand depending on the shape of the layers

Where to stand when sectioning for no resistance when drawing your line.

The importance of the mirror and how to properly utilize it as a tool/indicator.

The importance of your combing direction and what you will get from it

The way Ira diffuses curly hair with a chop stick and why
This one lesson can open your mind, letting you see how simple things can be with curly hair when you think inside the box, work the rules and have proper boundaries.
You will receive a Zoom link by email to get access to the LIVE Zoom webinar on 11 April 2022.
This Clock Cutting Concept will change how you look at cutting hair and trust, perspective is key.