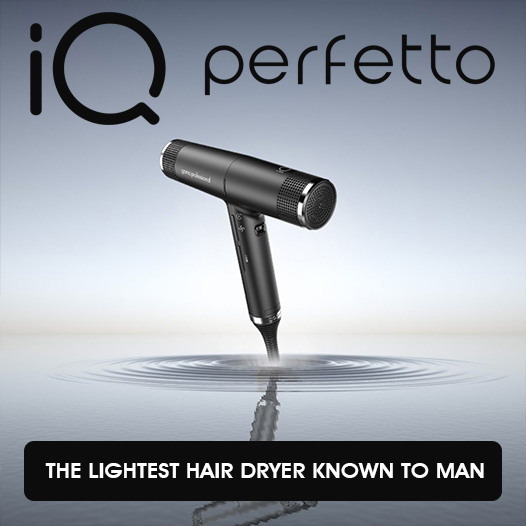 We are literally and figuratively blown away…
Cuts drying time down by at least half!
IQ Perfetto Hair Dryer is the most advanced blow dryer in the world. Each aspect of the IQ Perfetto has been engineered to create the ultimate experience. It packs an unmatched blowing power in the most compact design and lightest weight.
Engineered in Italy by the world leader in hairdryers, the IQ Perfetto by Gama has been created with both the hairstylist and the consumer in mind. It offers unparalleled performances and mostly for us, it gives us the chance to finally send our clients home with a tool that is the dryer of choice for the stylists in salon themselves.
The most powerful blow dryer with a motor speed of 110,000 RPM with 3-speed levels is 7x more powerful than other hairdryers.
Only 78db of noise level, which is incredibly quiet for any hairdryer.
Its brushless motor not only reduces the drying time but significantly increases the lifetime of your dryer, thanks to its intelligent digital technology.
The IQ Perfetto is designed with the Venturi effect (turns out no relation to the Volturi in Twilight) in order to significantly multiply the airflow without using extra power.
Ultra-Lightweight, they have managed to reduce the weight of the IQ Perfetto's weight to a mere 294 grams! I mean! Essentially; you can now dry your hair without tiring your arms.
It also comes with the Oxy Active technology which acts as an anti-bacterial and also a sealant for hair cuticles. The result is shiny and healthy hair after each use.
This is a hairdryer with an extended lifetime that would keep its performance throughout its life cycle with a microfilter that prevents the smallest particles from entering the motor without losing any of its its power.
The auto-clean technology efficiently extracts all the particles from the dryer by rotating its turbines in the opposite direction.
5 temperatures, 3-speed levels, and cool shot.
The IQ Perfetto comes with 1 Diffuser and 2 Concentrator Nozzles (96mm & 68mm)
Its Memory Function Technology can save up to 18 configurations between speed and temperature. You can easily access them through the digital interface.
They have also included a safety lock button to avoid accidental button activation during use.
Clearly, obsessed with details, they have even included a 3m / 9.9ft long power cord, so you can say goodbye to your extension cords.
Never before have we seen such a dryer! Ask your stylist when next in.
For those who dry their hair often – this sort of thing is life changing.
You will know, if you know…