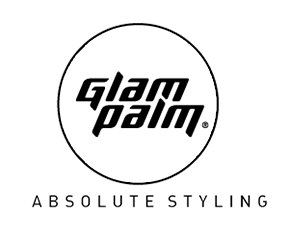 Fresh out of the box... GlamPalm has arrived and quite simply : it has BLOWN US AWAY.
As is always the case with ANYTHING new that we add to our offering – it first gets TESTED BY US  – and we are wanting to impress YOU, our clients… So when GlamPalm literally came in to show us the difference in results between theirs and other irons – WE WERE BLOWN AWAY.
That's the bottom line…
Making us extremely excited to introduce to you a new partner in hair … GlamPalm! There is nothing better when you find a product that is not selling a story – it IS A STORY! (Granted we feel this way about all that we use and love – but that's exactly why we use and love the things we do – they are amazing! #stylistschoice #biggestvoice)
The GlamPalm team have created a revolution in hair styling with their range of professional hair styling tools designed with pioneering technology to bring you style, control and flexibility. We haven't quite seen these results before #askyourstylist when next in, especially if you are one of those clients that uses an iron.
These irons have a one-touch temperature control to deliver the level of heat you need, when you need it and a secret ingredient in their irons that adds brilliant shine with every use. Its an advanced mineral ore to ensure your hair stays healthy. (Ore you excited yet?!)
Everything you need for simple and creative hair styling.
Literally glamour in the palm of your hands (and no, not the magazine…)
If you are still reading you are probably someone that uses an iron often, if not daily. Many of our clients do and it's not just for 'straightening' purposes; the dead straight look is thankfully not all there is anymore and many use their irons for 'styling' purposes. ( those beautiful waves you see in so many hair pics …) Whatever your reason for using an iron you will be aware that it is applying heat and it therefore causing damage. Anything that eliminates, lessens or repairs damage is gold to us. And to you … We love how technology evolves – often drawing from nature to give back to the hair – allowing for less and less damage to occur.
Containing patented Healing Stone Technology™, the award-winning GlamPalm Flatiron is said to do its magic with only one-pass. This, in combination with the even heat transfer for "treatment effect" and infra-red anions (not onions), makes it proudly the Magic Series™.
Get your hair back to healthy thanks to the Exclusive Healing Stone™ which will prevent damage to your hair without the use of a heat protector – It also creates a glossy finish and an enhanced hair colour without pulling the hair while styling.
The GlamPalm is also much kinder to your hair through its tilting cushioned plates (24mm) and 11 heat settings which enables full control to create celebrity-like styling results. Its unique 3-metre 3d swivel pivot cord will allow complete 360° freedom of movement when styling and maximizing flexibility.
The one-touch digital temperature control and the LED display lets you know what level of heat you are applying to your hair at any time.
Thanks to the ground-breaking Nano-Vibration Technology, this styler ensures heat is radiated inside the hair instead of drying out its external structure. This creates a healthier finish that is touchably soft and ultra-shiny. Straight, wave or curl? Any style, GlamPalm says, will hold until the next wash!
The GlamPalm Hair Essence Oil is a lightweight serum with a unique formula rich in nutrients found in the seeds of the fruit that blooms on baobab trees, some of which can live a thousand years or more. The instant absorption into hair enhances immediate manageability, shine, helps to eliminate frizz and deliver long term healthier hair. Basically; a powerful tool and product that have really WOW'd the team.
If you are using an iron for styling you may as well use the one that works the best, in the shortest time (= less heat on your hair which = less damage) and one that repairs while ironing.
Chat to your stylist a bit more about it. Our scar team each have a GlamPalm of their own and they definitely use them the most. They will have the best feedback and real advice for you.