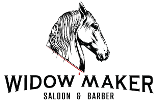 Widow Maker Saloon & Barber, known to most as Widow, opened their doors at the top of Long street in 2015. It is a large space dedicated to the art of hair cutting and face slicing. The large sunny balcony doesn't hurt either.
Widow Maker is the boetie of scar and came about as the demand for barbering services began to grow almost as fast as the facial hair on all the faces did… Male clients these days have a clear idea of what they are after and they appreciate being able to pop into a spot designed solely for this where it can happen quickly and without fuss.
A mens haircut is everything. At Widow Maker you will find a precision haircut that goes beyond a quick back and sides. Come in for a full hot towel shave or just the half rave … a beard trim or a sip of gin. A father and son package on the menu adds yet another thing to the list of 'things to do in Cape Town' with your tiny protégés …  Widows skilled team of barbers are at the top of the (facial) hair game. From fades and blades to nose and ear waxing – they can handle it!
Visit the new Widow Maker in Lifestyle on Kloof, in Cape Town  – could it get any easier?
Chat to Kenin (with Widow since opening), or Natasha in the Lifestyle Centre Kloof street about your new hair; whether its the hair on your head or the hairs on your face.
Check out Widow Maker's Instagram for Hairspiration and to see the barbers work.
Walk-ins or bookings welcome. For added convenience, you can download (Apple or Android) the Free Booksy APP to self-book your appointments. No Face To Hyde.