scar has always placed a really big emphasis on education, and we're strong believers not only in empowering our own stylists, but supporting and uplifting the whole industry as well. As such, we love sharing our knowledge and expertise in the form of hair courses.
We run our own 6 month hair stylist course for those interested in learning to become one, as well as a shorter 6 week course, which is designed with make-up artists in mind but really is perfect for anyone interested in learning the art of hair. We also offer bespoke internships and creative hair courses throughout the year. As you can see, we're adamant that education is everything!
So when Candice Wyatt from Wyatt hairdressing in Joburg called us to say she was thinking of bringing UK stylist Sophia Hilton out here for some training, and would we like to go halves with her to bring her out here, we jumped at the opportunity. Sophia is a former winner of HJ's Newcomer of the Year and the L'Oreal Colour Trophy, and is really making waves in the UK scene.
After she imparted some of her skills and knowledge to our stylists here in Cape Town, we took the opportunity to ask her a couple of questions…
Can you give us a little background on yourself in terms of your experience in the industry, awards won etc. Also, haven't you recently opened your own salon? Where is it?
I'm from a small town originally and moved to London when I was 21 with a suitcase, no money and very little hairdressing education. From there I basically worked my bottom off and within 7 years, had opened my own salon on Brick Lane in London – with a lot of tears and long hours between in those interim years.
Sophia is kind of a big deal…
scar and Wyatt brought you out here, how did that happen? Was there anything specific which you were trying to teach, or train the local stylists in?
I was blown away by their talent! It's at a much higher level than the salons I have taught in, in Europe. Both salons were very different, but they were both clearly so client focused. Apparently education is not as easily available in South Africa, but that didn't show – they were clearly at the top of their game!
Have you been to SA before? Judging by what you've seen so far, what are your impressions of the local hairdressing scene? What are the similarities and differences to back home? And did you notice a major difference between Cape Town and Joburg?
Cape Town has a raw edge which I love, as it's a big part of the culture which I live in at home – a lot like my salon. Joburg had an elegance that I aspire to. Both salons were like the two sides to my personality.
What was your impression of the scar stylists?
Scar's stylists are just so cool, but most importantly, so nice! Their salon reminds me a lot of my salon and is totally the vibe of a salon I'd be working in, if I lived in SA.
"Cape Town has a raw edge which I love"
scar made Sophia a cake!
Some of her handiwork
Which hairdressing trends are prominent in the UK and abroad at the moment? Do you see those same trends here?
I must say that they're similar. I study a lot on 'Google Trends' and there you can see from country to country what is being searched for, and therefore what is popular. Balayage from the root (not ombre) is a big growing trend in South Africa right now.
Did you see any styles, colours, cuts or trends here in SA which you thought were quite interesting and wanted to explore further, or even take back home with you?
I must admit that I do love Yolandi's (Die Antwoord) mullet. But I knew that before I came out here. People in the UK are very divided on it, but I loved it from the second I saw it.
Has anything stood out and impressed you during your recent visit? Hair-related or otherwise.
Just how current and well-trained both salons were – I certainly had to up my game!
Describe your experience of CT and JHB in one word each.
Thats too hard, I can't!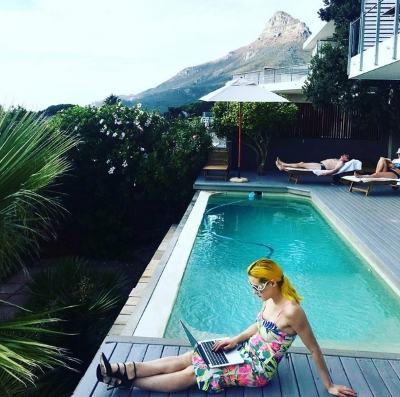 Sophia slumming it in Slaapstad.
Do you have any hairdressing idols? Who (or what) is your inspiration for what you do?
I love my team! Giving them an idea and watching them run with it is such a joy.
Why hair? What made you want to get into the hairdressing scene at the start of it all?
I'm from a salon of eight hairdressers, so it's in the blood! I'm chatty and I love connecting with people, so its perfect for me.
When will you be back? Any plans at this stage?
If they (scar & Wyatt) will have me back, then I will be back in a heartbeat!
Advice to stylists?
You have to go on one course per year.