If you were in the vicinity of the West Coast Ostrich Ranch in last year November (on the 12th or 13th) : you would have had an amazing time! #nexttimemofo
Essentially, a very different day with a totally new (and even some of the old) crowd… A mix of people – mostly all dressed up and loooking like a scene from: Somewhere Else.
That; plus a few extras like stalls / food trucks / games / skateboard ramps / live music and dirt tracks, child minding facilities ,swings and rides etc .
That is Dusty Rebels and the Bombshells Rockin' & Riding Festival.
With that in mind; all the hot rods & cruisers pull in: bikers, fashion strikers, curled haired (normally) cyclists, checked frocks, thin white tees with rolled up sleeves. Basically: a variety of rockabilly interpretations that all go down well.
scar is there each year to put the finishing touch to your hair do —- and; if you are a hair dont and have arrived with it in no style at all, we are there to style you rockabilly.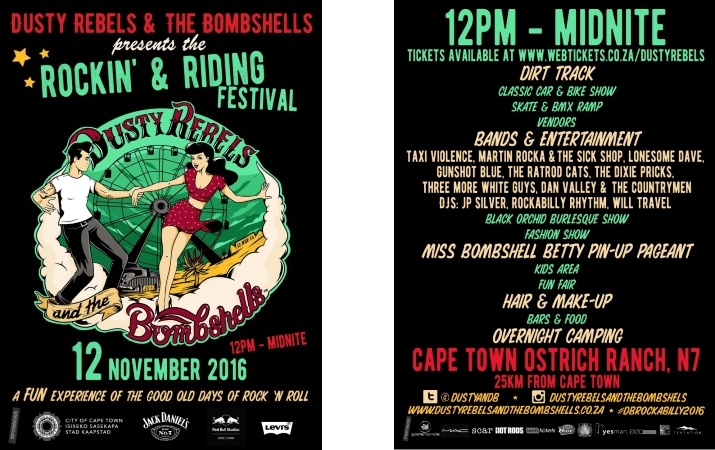 The annual Dusty Rebels and the Bombshells Rockin' & Riding Festival has become a local favourite, and the celebration of fashion, food, music, cars, motorcycles and sports from the golden age of Americana and social culture never fails to be a good time. Its also quite simply like nothing else we have on offer.
Making sure that the Dolls looked the part, scar was once again there. Our stylists work tirelessly on shifts for the whole day; styling, primping, plumping, curling and spraying until you are so 50's – its bascially "black and white" time again… This is one that we and the stylists look forward to all year! Leandi keeps the DBRockabilly ladies Ziggy and Maria '1950's-ready' on an ongoing basis and then she heads the team (Jenni, Mariaan, Kirsten and Megan) for the festival day. Truly it is non-stop and we have the longest line of ladies waiting to be done all day long.
We're there for hair flair – you just get there.
The festival celebrates uniqueness, self-expression and creativity, obvs close to scar's (black)heart as well, which made it a perfect fit for us to get involved. It's a pleasure to have such fun with this crew!
Here are a few quick snaps but check out  Dusty Rebels and the Bombshells Facebook page to get a feel for how it all goes down.