Kadus Professional Vital Booster Shampoo
Our Kadus Professional product range got a boost recently when we added two great new products in the Scalp range – the Vital Boost Shampoo (for hair loss) and a Stimulating Sensation Leave-in Tonic.

(that last product sounds like a must-have for shiz!)
The Kadus Scalp range has special ingredients for the scalp, inspired by:
Caffeine, an alkaloid and central nervous system stimulant, which is said to prolong the hair growth cycle and therefore used to combat hair loss.
Menthol, which has disinfecting and cooling properties, and is used as a cooling component in hair tonics and body lotions.
Camphor, a natural substance known for its antipruritic properties.
Jojoba, a traditional hair and skin care product that is known for its moisture-binding and soothing properties, also used by the American Indians for treating wounds (who knew!).
Calendula flower, which contains ethereal oils and carotinoids and is known for its caring properties on damaged cells.
Although possibly not quite as fun as it sounds, the Stimulating Sensation Leave-In Tonic still instantly revitalizes and refreshes the scalp for younger looking hair, alive with colour, texture, movement and shine. In fact Kadus says it leaves you with a "feeling of renewed invigoration after application"!
Leaves you with a feeling of renewed invigoration – who doesn't want that?!
The shampoo, which should ideally be used before the serum, also revitalizes the scalp and helps protect against hair loss from breakage.
Check out our full Kadus Professional range here.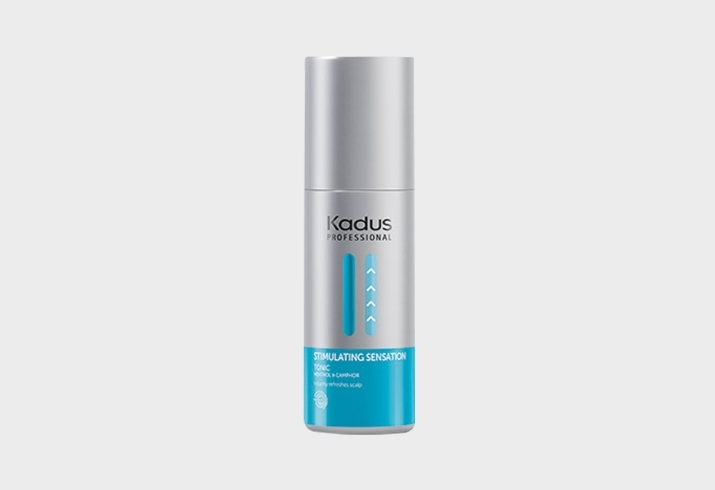 Kadus Professional Stimulating Sensation Tonic